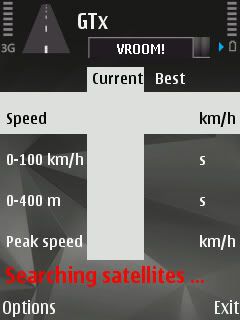 GT is a program for S60 mobile phones. It uses the phone's internal
GPS receiver or a Bluetooth GPS receiver to measure top speed and
acceleration (0-100 km/h and 0-400 m, or 0-60 mph and quarter mile,
or any given speed range and distance). With GT you can measure the
performance of your car, motorcycle or any other vehicle. GT is also
useful for navigation, giving direction and distance to any set
destination. Do you need GT? Tuning your car? Did product X improve
performance? Use GT to find out! Why is everyone overtaking you? Is
your speedometer inaccurate? Use GT to find out! How to find back to
the hotel? Use GT to find places again! Geocaching? GT is all you
need!
GT.sis V2.0 (40 kB) is for S60 1st edition phones (Nokia 3600, 3620, 3650, 3660, 7650, N-Gage, N-Gage QD, Siemens SX1, Sendo X and X2).
GTi.sis V2.0 (40 kB) is for S60 2nd edition phones (Nokia 3230, 6260, 6600, 6620, 6630, 6670, 6680, 6681, 7610, N70, N72, N90, Panasonic X700, X800, Samsung SGH-D720, SGH-D730, SGH-Z600 and Lenovo P930).
GTx.sis V3.1 (55 kB) is for S60 3rd and 5th edition phones (all models not in the above lists).
download here
Category: S60 Stuff