Albite eBook Reader v2.2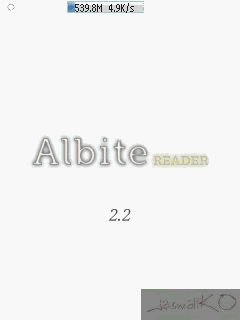 Features:
anti-aliased bitmap font in four sizes with over 850 glyphs, including latin, cyrillic and greek
hyphenation for 29 languages
23 character encodings, including UTF-8 and most of ISO-8859 and Windows-125x
animated touch-guided scrolling
horizontal and vertical scrolling
on-touch dictionary look up
units conversion: temperature, length, area,
portrait and landscape view
images and basic styling
color profiles
portable book settings
bookmarks
table of contents.
Used heap memory:
:
3000 – 10,000 KB
Limitations or enhancements:
Bigger icons, bigger fonts, chapters are split in 512KB chunks, automatic canvas rotation of Nokia phones with an
accelerometer.
Changelog v2.2
Support for native Java fonts
Bookmarking / looking up text is far easier now by using a context menu
Added two more font sizes to the HD version
Files/folders are now listed alphabetically, not randomly.
Incoming search terms:
Category: S60v3 Applications